Two Stachytarpheta Jamaicensis In A Sea Of Green Plants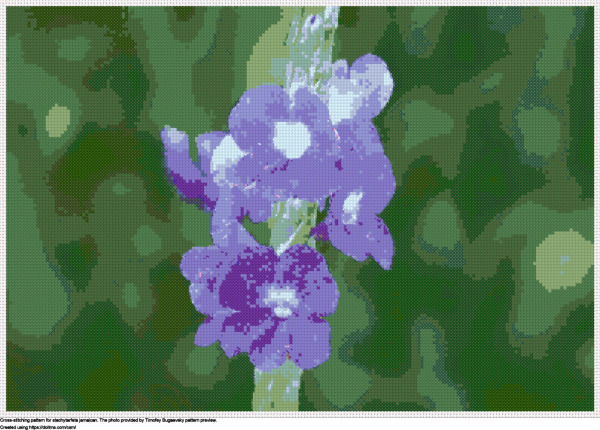 | | |
| --- | --- |
| Floss palette | DMC 6-strand embroidery floss |
| Fabric cell size | Aida 14 |
| Width | 35cm (13.78in) |
| Height | 25.08cm (9.87in) |
| Number of colors | 33 |
| Fractional crosses | ✔ |
| Mix colors | ✔ |
| More details (complicated) | |
| More colors (complicated) | ✔ |
| For printing on a printer (PDF) | ✔ |
| Categories | Flowers, Branch, Purple, Summer |
Download for free
By clicking Download for free you accept privacy policy and terms and conditions.
Stachytarpheta jamaicensis is part of the Verbenaceae family and is native to the Caribbean; it is also known as Brazilian tea, bastard vervain, and blue snakeweed among others. It can be found mostly in countryside areas and in some places, it is considered an invasive plant. Furthermore, Stachytarpheta Jamaicensis grows great in disturbed terrain.
This plant can be used for medicinal purposes to cleanse the blood, treat asthma and ulcerated stomachs as a form of tea, but recent studies showed that the flowers can produce systemic toxicity which might provoke congestion and necrosis in blood vessels, kidneys, and lungs. This is an extraordinary plant with many different purposes that has come a long way since its discovery, helping hundreds of people cure head and stomach aches and in some countries today they still use this plant as a remedy. Its light purple petals can be recognizable from anywhere in the wild.
Cross-stitching pattern for stachytarfeta jamaican. The photo provided by
Timofey Bugaevsky
.
Free patterns
Did you like the design and want to make your own on your photo? Try Cross-stitching design generator.
How to create a good cross-stitching pattern
We create and share cross-stitching designs with you for free.
All designs are free for use by end users. At the same time no reselling or copying for other cross-stitching sites is allowed.
We pay attention that no behavior that violates copyright and other laws is present on this site.