Three Beautiful Red Flowers Photographed At Night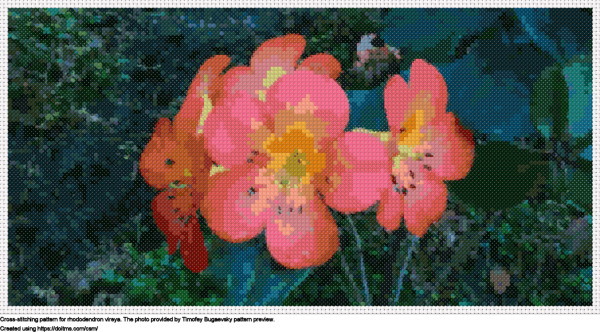 | | |
| --- | --- |
| Floss palette | DMC 6-strand embroidery floss |
| Fabric cell size | Aida 14 |
| Width | 27.12cm (10.68in) |
| Height | 15.01cm (5.91in) |
| Number of colors | 69 |
| Fractional crosses | ✔ |
| Mix colors | ✔ |
| More details (complicated) | |
| More colors (complicated) | ✔ |
| For printing on a printer (PDF) | ✔ |
| Categories | Flowers, Bush, Red, Night |
Download for free
By clicking Download for free you accept privacy policy and terms and conditions.
Vireya Rhododendron is a tropical plant included in the wide family of Rhododendron, which circles almost 300 different species known until this day. They are native to the southeastern parts of Asia, Thailand, and Australia. This last one is the best place for them to grow, according to many professional gardeners. Their characteristic petals and leaves make a perfect garden decoration.
They are perfect for growing them on a container and placing them on a balcony, under a tree, or in a special shade house. These variants speak about the great endurance of the plant and how it can adjust to different environments and placements. Vireya Rhododendron has glossy petals that can appear in many colors apart from the traditional red. Furthermore, most of these plants live in highland tropical forests, so their main pollinators are bats and birds, unlike common flowers that have bees as their prime contributor.
Cross-stitching pattern for rhododendron vireya. The photo provided by
Timofey Bugaevsky
.
Free patterns
Did you like the design and want to make your own on your photo? Try Cross-stitching design generator.
How to create a good cross-stitching pattern
We create and share cross-stitching designs with you for free.
All designs are free for use by end users. At the same time no reselling or copying for other cross-stitching sites is allowed.
We pay attention that no behavior that violates copyright and other laws is present on this site.