Pretty Ixora Flowers Resting In A Stunning Healthy Backyard Garden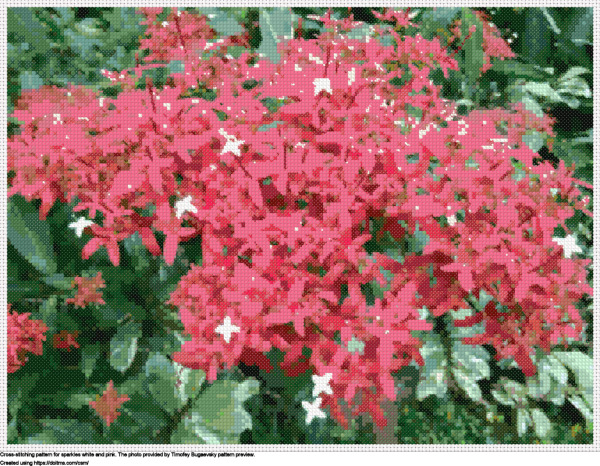 | | |
| --- | --- |
| Floss palette | DMC 6-strand embroidery floss |
| Fabric cell size | Aida 14 |
| Width | 30cm (11.81in) |
| Height | 23.3cm (9.17in) |
| Number of colors | 57 |
| Fractional crosses | ✔ |
| Mix colors | ✔ |
| More details (complicated) | |
| More colors (complicated) | |
| For printing on a printer (PDF) | ✔ |
| Categories | Flowers, Pink, Green, Tropical |
Download for free
By clicking Download for free you accept privacy policy and terms and conditions.
The Ixora is a semi-tropical plant optimal for landscaping and other eye-catching floral arrangements due to its stunning appearance. It has bright petals and beautiful vibrant green leaves that capture all sights. Furthermore, the flower can come in several colors such as red, pink, orange, and yellow, giving owners and plant enthusiasts many options to choose from.
Ixoras need minimal maintenance which is great for those looking for their first plant to take care of as well as for those who are not at home very much during the day. It can be planted outside and when the colder days arrive, owners can take it inside in a pot or container to protect it from damage. Once the flower blossoms, the petals can last from 4-6 weeks, granting a stunning sight for quite a long time. What's more, flowers are prone to blossom in summer but they can also appear in other seasons in the year.
Cross-stitching pattern for sparkles white and pink. The photo provided by
Timofey Bugaevsky
.
Free patterns
Did you like the design and want to make your own on your photo? Try Cross-stitching design generator.
How to create a good cross-stitching pattern
We create and share cross-stitching designs with you for free.
All designs are free for use by end users. At the same time no reselling or copying for other cross-stitching sites is allowed.
We pay attention that no behavior that violates copyright and other laws is present on this site.