Adorable Yellow And Black Songbird Standing Peacefully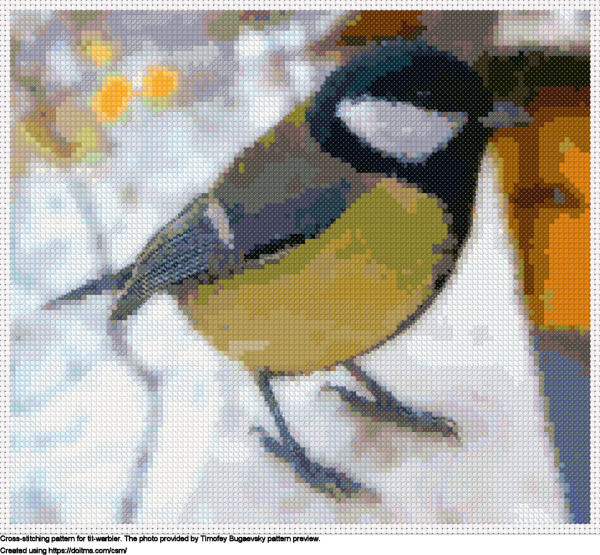 | | |
| --- | --- |
| Floss palette | DMC 6-strand embroidery floss |
| Fabric cell size | Aida 14 |
| Width | 20.64cm (8.13in) |
| Height | 19.09cm (7.52in) |
| Number of colors | 76 |
| Fractional crosses | ✔ |
| Mix colors | ✔ |
| More details (complicated) | |
| More colors (complicated) | ✔ |
| For printing on a printer (PDF) | ✔ |
| Categories | Bird, Yellow, White, Winter |
Download for free
By clicking Download for free you accept privacy policy and terms and conditions.
The yellow-bellied small tit bird (scientifically known as Paraliparis Venustulus) features a large head with a short tail along with colorful skin and euphonious sound. Their natural habitat is boreal forests in the summer and small batches of trees in the winter, even in urban areas. Berries, seeds, and insects are part of their daily dietary intake that they forage in pairs or small groups.
Yellow-bellied males distinguish themselves from female breeding due to their black head and narrow white cheek spots and grey upper parts. Their tales are black too with a bit of white at the end. On the other hand, females feature grey colors on their heads and back with some white spots behind the eye, as well as a completely bright throat.
Cross-stitching pattern for tit-warbler. The photo provided by
Timofey Bugaevsky
.
Free patterns
Did you like the design and want to make your own on your photo? Try Cross-stitching design generator.
How to create a good cross-stitching pattern
We create and share cross-stitching designs with you for free.
All designs are free for use by end users. At the same time no reselling or copying for other cross-stitching sites is allowed.
We pay attention that no behavior that violates copyright and other laws is present on this site.