Nice Chamomile Flowers Giving A Garden A Spectacular Sight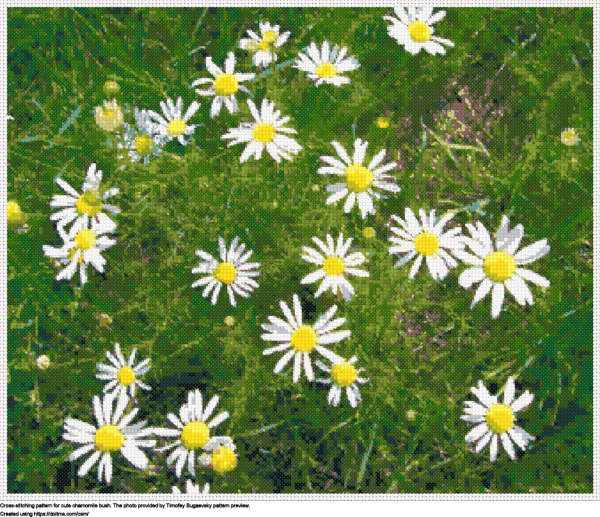 | | |
| --- | --- |
| Floss palette | DMC 6-strand embroidery floss |
| Fabric cell size | Aida 14 |
| Width | 30cm (11.81in) |
| Height | 25.85cm (10.18in) |
| Number of colors | 24 |
| Fractional crosses | ✔ |
| Mix colors | ✔ |
| More details (complicated) | |
| More colors (complicated) | |
| For printing on a printer (PDF) | ✔ |
| Categories | Flowers, Grass, White, Green, Summer |
Download for free
By clicking Download for free you accept privacy policy and terms and conditions.
Chamomile is perhaps the most known plant all around the world, with its origins tracing back to ancient days in Europe. They are part of the daisy family and there are two common types: German and Roman Chamomile, with both having medicinal properties as well as uses for beverages and skincare products.
The Chamomile plant grows quickly, with a capacity of reaching full bloom in just 10 weeks, and the best time of the year to plant them in spring. The Roman Chamomile is typically used to soften the edges of stone walls while the German type is more used for making tea. Furthermore, they need full sun exposure as well as completely organic soil to properly grow and blossom, giving beautiful white flowers with vibrant yellow centers. Their bloom season happens during summer, where the sun and the temperature reach optimal conditions for the flowers to appear.
Cross-stitching pattern for cute chamomile bush. The photo provided by
Timofey Bugaevsky
.
Free patterns
Did you like the design and want to make your own on your photo? Try Cross-stitching design generator.
How to create a good cross-stitching pattern
We create and share cross-stitching designs with you for free.
All designs are free for use by end users. At the same time no reselling or copying for other cross-stitching sites is allowed.
We pay attention that no behavior that violates copyright and other laws is present on this site.