Stunning White Bud Resting Calmly On A Tree Branch In The Winter Time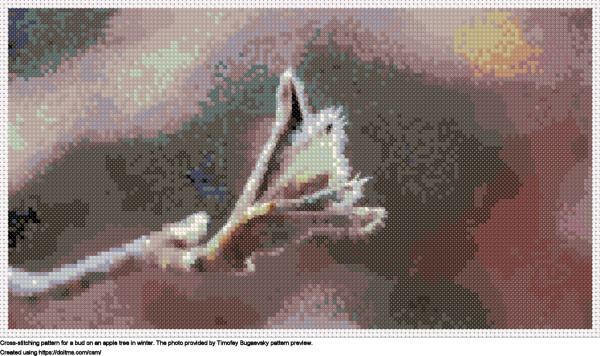 | | |
| --- | --- |
| Floss palette | DMC 6-strand embroidery floss |
| Fabric cell size | Aida 14 |
| Width | 26.17cm (10.3in) |
| Height | 15.53cm (6.11in) |
| Number of colors | 35 |
| Fractional crosses | ✔ |
| Mix colors | ✔ |
| More details (complicated) | ✔ |
| More colors (complicated) | ✔ |
| For printing on a printer (PDF) | ✔ |
| Categories | Flowers, Bud, Brown, Spring |
Download for free
By clicking Download for free you accept privacy policy and terms and conditions.
Winter is the time where apple trees rest until the warmer days come and buds begin to blossom. Bees are major contributors to apple tree blossomings due to their pollination process, which spreads out the pollen on other flowers and creates more seeds. Furthermore, summer brings bigger and rounder apples that produce new growth and prepare themselves for the harvest season during fall. The majority of apple blossom petals begin with a pink color and fade to white as the season progresses.
Harvesting apples has been a tradition and a very fun activity to do for long generations and it seems like it won't stop anytime soon. Native Americans used to make apple head dolls with the apples collected, which current school teachers continue to encourage students to imitate to commemorate their ancestors. Apple trees have come a long way since first discovered and continue to serve as a great healthy and delicious option for all ages.
Cross-stitching pattern for a bud on an apple tree in winter. The photo provided by
Timofey Bugaevsky
.
Free patterns
Did you like the design and want to make your own on your photo? Try Cross-stitching design generator.
How to create a good cross-stitching pattern
We create and share cross-stitching designs with you for free.
All designs are free for use by end users. At the same time no reselling or copying for other cross-stitching sites is allowed.
We pay attention that no behavior that violates copyright and other laws is present on this site.