Beautiful Blue Dichroa Flower Cross-Stitch Design Free Download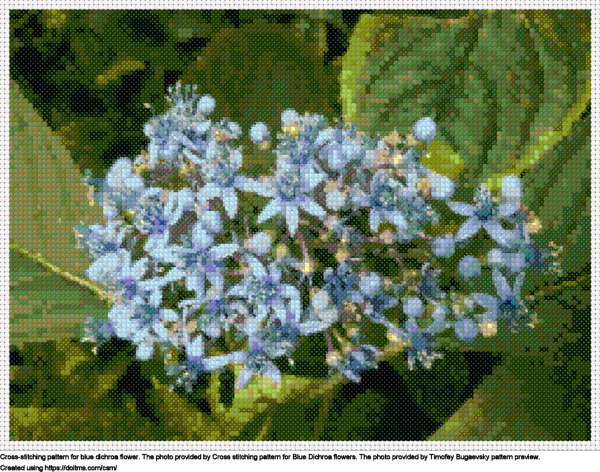 Whether you choose a quiet and sturdy place to start sewing or feel comfortable in a moving car or plane to pass the time, this design will bring you peace and satisfaction.
Calm is a word that is often used when people talk about the benefits of cross-stitching. People describe sewing as meditation. The simple task of pulling floss with a cloth, doing the same kind of sewing can give people a sense of well-being. For those overwhelmed by life activities, sewing will allow you to sit down and breathe to regain peace.
Sewing can help you retain your perceptive powers by keeping you present and engaged. Following the pattern means you have to remember how many qualifications are needed and what guidance they need to do. These small exercises keep your mind healthy and active
If you like to design and have an image you would like us to make a sewing pattern we create and share free cross stitch designs with you, with all designs approved for use by end-users. Just visit our website and upload the image you want, next you can adjust the size and shape of the image and download the final product!
In many cultures and throughout all seasons, blue flowers have long held the symbolic meaning of peace, serenity and calm, due to their association with the sky and water. Historically, unusual blue flowers have also symbolized intimacy, security, trust, and openness. In some cultures, blue symbolizes mystery, inspiration, and empathy.
The blue flower represents desire, love, and inspiration. It represents a natural struggle for the impossible and endless and perfect for people who have a desire for unattainable access and who can cross seven seas to achieve their goals. The color blue is associated with open spaces, freedom, emotion, thinking, expansion, inspiration, and empathy. The color blue also represents depth, confidence, honesty, integrity, wisdom, self-confidence, stability, faith, heaven, and wisdom.
The color blue represents the healing nature of water and the power of a stormy sea. It is what separates the earthly bodies from each other, and it is a symbol of honesty and trustworthiness. Like most colors, our response to blue is complex and sometimes contradictory.
The color blue is one of the colors, which can be easily seen in the dark. It offers a deeper view and makes the living spaces more spacious. Although color is not gender-neutral, men and women perceive color differently. Males tend to use different colors such as light or dark blue only and, for women, it boils in very deep variations such as indigo blue, purple-blue, and more. To make it easier, dark blue flowers represent confidence and strength while bright shades of blue are considered feminine and delicate.
The color blue has many positive effects on the body and the mind. Like the color of the air, it asks for relaxation and can make the body produce calming chemicals and release feelings of peace. Blue helps to lose weight, cools down the environment, and helps balance and self-expression.
While the red flower speaks of love and the white flowers represent purity and purity, blue blossoms signify continued loyalty and commitment. Sending blue flowers means you expect to keep the romance burning and alive for years. Blue flowers are among the unusual colors of flowers.
The colors of the flower are determined by the plant pigs. There are three types of chemical compounds found in plant color: anthocyanins, carotenoids, and betalains. These combinations are responsible for colors ranging from orange and red to purple and blue. Other substances are activated, such as soil acidity and cell structure. That's why sending blue flowers to your loved ones can be a great idea if you want to convey that they are their people and you don't feel the same way to anyone other than them. But it does not have to be natural flowers in order to be gifted, a beautiful painting or a sewing pattern can also be a wonderful gem. Blue flowers are sexually neutral and are not intended for certain years so you can give them to anyone!
There are many words associated with the color blue, such as "out of the blue" which is used to refer to something unexpected, "blue blue" represents someone honest, trustworthy, and trustworthy. Blue also refers to a person born royal, noble, or high, such as the word "blue hood" or "blue ribbon", representing the first place, first, top prize, or number one.
Throughout the decades and periods, there have been many translations of blue flowers. The Egyptians are thought to have produced a blue pigment using lapis stone around 2200 BC. Known as cuprorivaite, the pigment was used in glazes that adorned Pharaoh's tombs, pottery, and statues. Over time, they combine lapis with other minerals, such as limestone, silica, and copper, to form a spectrum of shades of blue.
The unusual nature of the ingredients needed to create the blue color meant that the color was reserved for the rich, the royal, and the great. This may also have caused the blue to be associated with deity, as is the case with several Eastern cultures. There were no written languages spoken in blue until about 4,500 years ago, indicating the color spectrum.
Historical records show that the ancient Greeks and Romans had several associations in blue. To them, blue represented their pagan enemies, the Celts, who painted their bodies with blue pigs in battle, and blue-eyed women were considered immoral. In time, the blue dye spread throughout the world, eventually reaching Egypt and the Roman Empire to Europe, Asia, and Mesoamerica. The ancient Europeans made blue dye from the leaves of the flowering plant called woad. These pigs were so expensive that only the nobility could afford them. The blue robe was a symbol of status, as evidenced by the light from the time it was shown by kings wearing blue silk garments.
For the Victorians, blue flowers had many possible meanings. Depending on the type of flower, blue floriography symbolizes love, desire, affection, inspiration, trust, purity, peace, or empathy. In Roman times, the blue flower was the main symbol of inspiration. When given or used as a theme of art, it represented hope, beauty, and unattainable or endless striving.
Today, blue flowers symbolize a range of meanings and messages, depending on the type. This versatility makes blue flowers a great addition to a floral arrangement for a variety of occasions.
They are also popular with wedding and intermediate flower arrangements. Blue can also be associated with empathy.
Over the years many shades, tints, and gems of blue have been discovered, each with a different name. The most common being cerulean, metallic blue, indigo, royal and, navy. To this day, blue is the favorite color of most individuals, along with green and red, providing security and calm to those who wear it. Many famous clothing items such as shirts and pants are commonly made in shades of blue, exuding a sense of elegance and status.
No matter what your mind is, you can be sure that once you start learning the pattern of integration and make it live, your problems will disappear from your mind. This only proves that termination is the right gateway to mental health care and self-care. So choose a pattern that matches your level of experience to start reaping the benefits it brings. Our designs catch and reflect every color you'd like, making the stitching process easier. It is perfect for personal use or a great gift idea, if you have an image in mind that you just know would look perfectly stitched, head to our website to begin your desired pattern!
Cross-stitching pattern for blue dichroa flower. The photo provided by
Cross stitching pattern for Blue Dichroa flowers. The photo provided by Timofey Bugaevsky.
Free patterns
Did you like the design and want to make your own on your photo? Try Cross-stitching design generator.
How to create a good cross-stitching pattern
We create and share cross-stitching designs with you for free.
All designs are free for use by end users. At the same time no reselling or copying for other cross-stitching sites is allowed.
We pay attention that no behavior that violates copyright and other laws is present on this site.