Free Young, wild and free cross-stitching design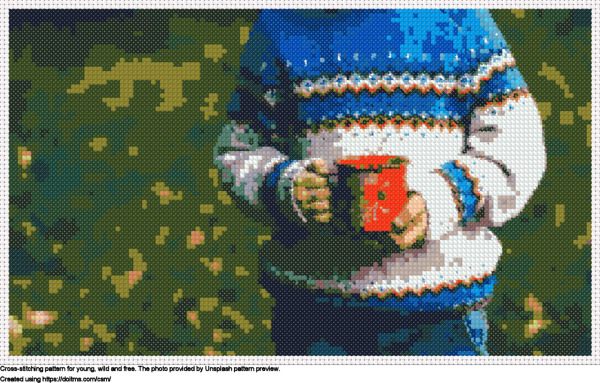 | | |
| --- | --- |
| Floss palette | DMC 6-strand embroidery floss |
| Fabric cell size | Aida 14 |
| Width | 23.73cm (9.34in) |
| Height | 13.46cm (5.3in) |
| Number of colors | 35 |
| Fractional crosses | ✔ |
| Mix colors | ✔ |
| More details (complicated) | |
| More colors (complicated) | |
| For printing on a printer (PDF) | ✔ |
| Categories | Man, Nature, Blue, Green, Red, Autumn |
Download for free
By clicking Download for free you accept privacy policy and terms and conditions.
Cross-stitching pattern for young, wild and free. The photo provided by Unsplash.
Free patterns
Did you like the design and want to make your own on your photo? Try Cross-stitching design generator.
How to create a good cross-stitching pattern
We create and share cross-stitching designs with you for free.
All designs are free for use by end users. At the same time no reselling or copying for other cross-stitching sites is allowed.
We pay attention that no behavior that violates copyright and other laws is present on this site.